Today's deal is Bloodstained: Ritual of the Night!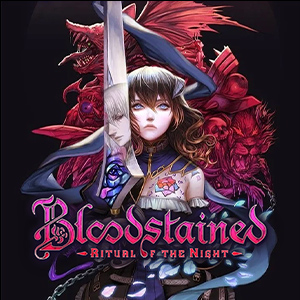 Steam: https://store.steampowered.com/app/692850/Bloodstained_Ritual_of_the_Night/
Description:
YOU'RE ALLOWED TO SAY IT ONCE

Oh man, have you played Bloodstained yet?

What? A lot of games are coming out right now, what is that again?

It's like a brand new game by Koji Igarashi in his signature style, except you're not a vampire or a vampire hunter, you're a-

Oh! Oh! Oh! I know this game now! This is the one that's like Mighty No. 9 to Mega Man, except for Symphony of the-

Ehp! Ehp! Ehp! Careful now, no one likes to compare a new game to an older one.

Oh come on, what? You're telling me that's not exactly what this game is? Miriam's moves and abilities are EXACTLY like Alu-

WHOOOOOOOOA there, cowboy! That's his name, but don't wear it out, you know what I mean?

I…I guess. Why did you want to know?

Umm, because it's awesome? Because…I care about what you, my good friend, thinks? Because you have good taste?

Sure. Well, yes, I have heard of it but I haven't played it. Just didn't quite strike my fancy.

What? But…IT PLAYS EXACTLY LIKE SYMPHONY OF THE NIGHT!

Oop! Uh-oh, uhhh…

I mean, isn't that your favorite game? Why wouldn't you play this? Is it because it's not different enough? Are you not impressed? Were you turned off by David Hayter?

David Hayter's in the game? What?

Yeah…as if you were ever gonna play it.

Oh my god, don't be like that! Fine, I'll play it! How much is it?

Forty bucks.

FORTY BUCKS! Jesus! What am I, a boomer? Do I LOOK like I'm made of money?

Oh shut up. You're a surgeon.

A STRUGGLING surgeon…

Whatever. Besides, Chrono's got the game on their site for like $28 bucks.

Oh? Thirty percent off? That's word.

Ya. Anyway, glad I ran into you. What are you doing at the movies on a weekday anyway?

Oh, uhh, right. Nothing…

That tickets not nothing, what does that say?

NOTHING!

Are you…going to see Frozen 2 by yourself at 3pm?

There is no judge but god.
The official trailer for Bloodstained: Ritual of the Night:

Our favorite Steam reviews:
As always, use this thread to discuss this deal, talk about the game and find other people to play with!
(ノ◕ヮ◕)ノ*:・゚✧