Today's deal is Blasphemous!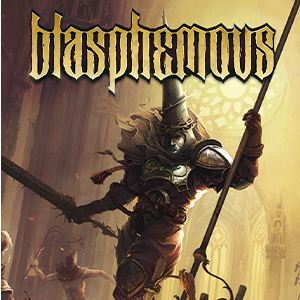 Steam: https://store.steampowered.com/app/774361/Blasphemous/
Description:
CATHOLISH
We know what you're thinking: you're looking at Blasphemous, with its extreme gore and art style based on guilt, shame, and religious iconography, and you're wondering to yourself "gosh, is that really what being Catholic is like?" And as the team's resident copywriter who grew up Catholic, I'm going to have to say that no, it's not really anything like being Catholic, but it is exactly what I imagined it looked like in the Bible when they talk about the bizarre olden times, where angels and demons would just show up and mess with people and make them very very scared of heaven.

You know, some people believe that God wrote parts of the bible directly, but Blasphemous is more what it would be like if God grew up in 60's Japan, got hired by Konami in like 1985, and then wrote his own Castlevania game, and then teamed up with Hidetaka Miyazaki to make some kind of dope old school 2D version of his incredible Dark Souls format. Does that sound cool to you? Great! Or perhaps…does it seem…a little…Blasphemous?

We're kidding, we're kidding…of COURSE it's a LITTLE blasphemous, but you know how in a lot of those 90's TV shows where they hire actors and maybe one or two of the people that were actually present to do a reenactment of a terrible crime, and then they change all the names to retain people's privacy? Blasphemous is like this but with the Bible. None of it actually lines up with anything real, it's just feels very on tone, this game is very good, and even you're like me, someone with a lot of Catholic guilt accumulating in my body over the years, it's pretty cathartic and there's a lot to see and discover and enjoy.
The official trailer for Blasphemous:

Our favorite Steam reviews:
As always, use this thread to discuss this deal, talk about the game and find other people to play with!
(ノ◕ヮ◕)ノ*:・゚✧