Today's deal is the Bad North: Jotunn Edition!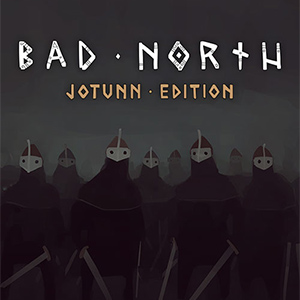 Steam: https://store.steampowered.com/app/688420/Bad_North/
Description:
SMART KINGS, STRONG SOLDIERS

"You know, one time I had to fend off the Vikings on an island shaped exactly like a horseshoe…" Your father's chest puffed up under his furs. You didn't have to be his son to tell he was proud to have survived.

"What did you do, father?" You ask, knowing perfectly well what he did because he's told this story at at least thirteen other dinners. As he looked back and forth at the other guests, making sure they were all paying attention, he smiled at you in thanks for keeping the story exciting.

"Well, I was only the general. I could only do so much commanding. The fact that I only lost three men is mostly down to the bravery of my strong and deadly soldiers." He raised a wooden goblet to the soldiers eating at a dirtier table in the corner of the room. The loud shout they gave back let him know they were listening. "But yeah, no one ever talks about it too much, but when defending an island, shape is everything." You decide to play along.

"But surely father, strong soldiers always win in the face of clever kings…"

He bites. "Perhaps in some kingdoms that's true, my son, and indeed it is what I taught you…" He pauses for effect. Somewhere a fat duke bites a chicken leg in anticipation. "…BUT NOT WITH THIS KING!" The room erupts into wild cheering. Meat and potatoes and wine fly into the air. A guard from outside even poked his head in to make sure everyone in the room wasn't burning to death.

These are the good times. But as you finish the last gulp of your cup of mead, you look again at your father. He is old. He is weakening. Soon, you will be the one who forever fends off the Vikings, and if you die, so too does the kingdom. You order another mead.
The official trailer for the Bad North:

Our favorite Steam reviews:
As always, use this thread to discuss this deal, talk about the game and find other people to play with!
(ノ◕ヮ◕)ノ*:・゚✧