Today's deal is the Bad North!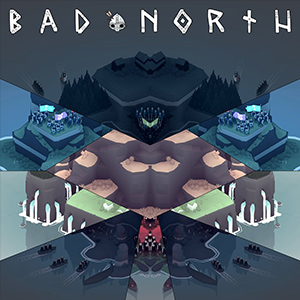 Steam: https://store.steampowered.com/app/688420/Bad_North/
Description:
TINY TUB WARS

Honey, honey! Quick, come look!

What is it dear?

Look, in the bathtub! It's like a tiny island archipelago full of tiny soldiers!

What? Well that might just be the stupidest thing I've ever…oh. Wow. Yeah.

See? I'm not imagining things! What do you think we should do!

Umm, I dunno, uh, should we try and like address them? I don't know! They're so small! And they seem so busy!

I wonder what drove them out of their homeland and into the tub? Do you think it was tiny vikings?

Hmm, well that just seems…oh, wow! No you were right! Here they come! Do you think they're gonna be fun traders, or is there some kind of viking musical tradition, or…oh, nope, wait…they've just started killing people…

I mean, just because they're tiny doesn't mean they're not vikings…

Oh yeah? As if suddenly you're the expert on tiny wars…but yeah, no, that seems pretty much exactly correct. Oof. So much tiny blood…

Man…do you think we should like, help them? Do you feel ownership over them a little bit cause it's our tub?

A little, yeah. It just seems kinda sus that we're sitting here poppin cheetos and drinkin' Capri Suns while an entire civilization gets destroyed!

You're right…uh…HEY! LITTLE GUYS! Yeah you, you're never gonna get anywhere without a good flanking maneuver, okay? So get to it!

Oh my gosh…look they're listening to you! And I guess the vikings didn't understand because they don't speak any Engl-oh, no they heard us, too. They're reacting to the flank…annnnnnnnnnd, we're just back where we started. Damn it! Did we just get invested in this?

Crap! I think so! I at least find it very compelling emotionally!

Yeah. It's weird, right?

Oh yeah, no, totally…though I already thought it was weird that you had a bathtub full of water just sitting there ready to go…

Oh come on! You know I dry out…

…I don't even wanna know.
The official trailer for the Bad North:

Our favorite Steam reviews:
Sale price info:
This is the lowest Bad North has ever been individually discounted according to ITAD, previous low was $12.74 on the Humble Store
As always, use this thread to discuss this deal, talk about the game and find other people to play with!
(ノ◕ヮ◕)ノ*:・゚✧