Today's deal is an Asmodee Bundle!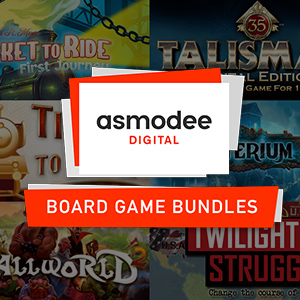 Today's deal options are:
Description:
TRYIN' OUT "CHRONERS" TODAY…

Alright Chroners, today's all about one question: How much do you love board games? 'Cause LITERAL digital board game wizards Asmodee wanna know, and they got three full tiers of coolness for you to spend at most ten bucks on, so let's try and get you some serious band for your buck, right?

Dungeons starting to feel dusty? Dragons getting too samey? Looking for a new flavor of tabletop fantasy? Look no further than Talisman, which is so much more than a big ass necklace, and for the Monopoly Jr. version of a worldwide railroad buying classic, Ticket to Ride: First Journey, which all comes in the first tier for one cent less than TWO BUCKS.

BUT…if you've got at least FIVE FITTY to spend, you really should do it for Mysterium: A Psychic Clue Game, where you can team up with a morbid friend as a ghost and a psychic to solve a murder, and the REAL Ticket to Ride, with train action so real, your Grandpa'll climb on the roof and try to exterminate the plains buffalo all over again!

BUTT…if you've got a cool TEN-SPOT for us today, you can ascend to the godlike level and determine the outcome of whole civilizations in the fantasy game Small World 2, and the Cold War game Twilight Struggle, which we're kinda sad isn't just Edward Cullen and Jacob Black taking off their shirts and wrestling for Bella.

So again, the question remains: How much do you like board games? But if we're being real, SIX of them for TEN BUCKS, especially ones THIS DOPE, are a pretty good ass deal…
The official trailer for Small World 2:

Our favorite Steam reviews:
As always, use this thread to discuss the deal, talk about the game, and find people to play with.