Today's deal is A Place for the Unwilling!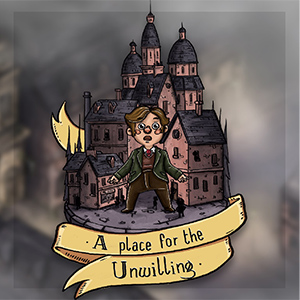 Steam: https://store.steampowered.com/app/1064310/A_Place_for_the_Unwilling/
Description:
DAWN OF THE TWENTY-FIRST DAY

Imagine the world around you frozen in time, like a nice big slice of that cake we call existence. Imagine that you're not that hungry after all, so you put it in the fridge. Like most things you put in there for a day or two, this allows the flavors to get deeper and more complex. Now make a little K-Cup for yourself and pull that thing out one morning with a little whip cream: that's some good cake, and it's the nice moist kind too that stays together on the fork and has almost no crumbs…sorry. We're getting a little too carried away with our cake metaphor.

The point is, life can be like that, and even more importantly, GAMES about life can be like that, where everything takes place in one tiny slice, like the one with that little boy in green and the angry angry moon. Something terrible is happening, and you need to know how everyone feels in that brief moment to possibly deepen your understanding of the problem, maybe even finding a way to solve it. These are games of reflection and thought rather than action and skill, and honestly, drizzled with a nice ganache, it's irresistible.

It's weird how much we keep mentioning cake, isn't it? It's probably just because cake is delicious, but make no mistake, A Place for the Unwilling isn't about getting the last piece of dessert, it's about walking through a strange and Eldritch city in the last 21 days of its life, and while in this case, the cake is just a metaphor for a specific point in time, the REAL question is, in this same metaphor…who eats the cake? Dream with caution.
The official trailer for A Place for the Unwilling:

Our favorite Steam reviews:
Sale price info:
This is the lowest A Place for the Unwilling has ever been individually discounted according to ITAD, previous low was $10.49 on Steam.
As always, use this thread to discuss the deal, talk about the game, and find people to play with.